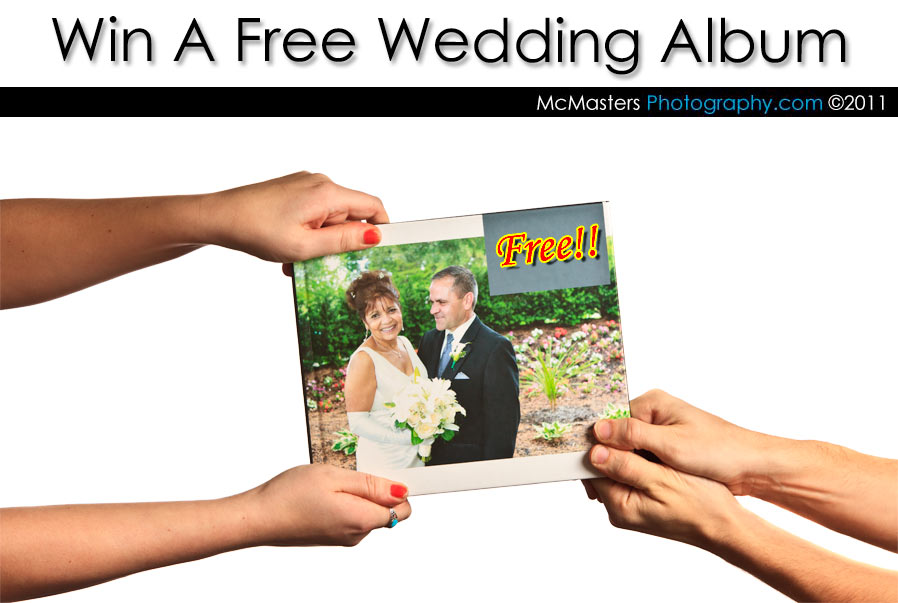 To all McMasters Photography wedding clients, past, present, and future, you have the chance to win a $400, 10″ x 10″ wedding album for FREE.  You are eligible if you have already had your wedding photographed but didn't purchase an album or if you have already booked McMasters Photography and have not purchased an album with your collection.  Here are the details:
Go to the McMasters Photography Facebook Fan Page HERE.
(you will need to become a fan in order to enter the contest)
POST on the Facebook Wall. Either post a review of your experience with McMasters Photography OR submit a picture of you and your fiance/bride/groom.
VOTE. Then you need to petition, blackmail, beg, or convince your friends to go to the McMasters Photography fan page and like your post.  Each 'like' counts as a vote.
WIN!!! The couple with the most votes will win a free 10″ x 10″ wedding album.
The contest will be open for one week until February 16, 2011 at 5:00PM.  Once the contest is closed I will officially declare a winner the next day on my website McMastersPhotography.com.
Additional Info:
Remember the goal is to get as many votes as possible… Feel free to do whatever it takes to get your friends and family to vote for you… ANYTHING.
The wedding album will be 30 sides with a hard photo cover.  McMasters Photography will select the images and design the album once the winner has been determined.  Good Luck!!